For the kids spring break this year (the boys are ages 8 and 10) we decided to check a dream trip off our bucket list and head to the Hawaiian Islands, specifically Kauai and Oahu.
To break up the long flight from Boston we planned to spend a night in Los Angeles close to the airport and take an early flight out to Kauai the next morning. This worked out really well and gave us a minute to adjust to the 3 hour time change between California and Massachusetts.
Upon our arrival to Kauai, we picked up our rental car and headed to our first hotel, the Sheraton Kauai Resort. Upon arrival we found the resort to be beautiful with lush gardens. We were greeted with delicious chocolate macadamia nuts and the news that we were upgraded to a one bedroom suite. The views from our suite were amazing.
We were hungry after the long flight and so our first order of business was to head to Lava's Restaurant (located on-site at the hotel) for our first Poke Bowls and Mai Tais of the trip. Our lunch was delicious.
For the rest of the day we hung by both the beach and pool. One of the great features of this resort is its location on a great swimmable beach, Poipu Beach. We had a lot of fun playing in the waves.
The evening ended with a spectacular sunset…
The following morning we spent hiking the Maha'ulepu Heritage Coastal Trail which is approximately 4 miles roundtrip and starts at Shipwreck Beach. This was an easy trail and a good option for hiking with kids.
Upon our return we wanted to explore the Koloa area and stumbled across the amazing Anake's Juice Bar which is located in the back left corner of Kukui'ula Market.  This place has THE MOST delicious Acai Bowls and it is a must try if you're staying for any length of time on Kauai!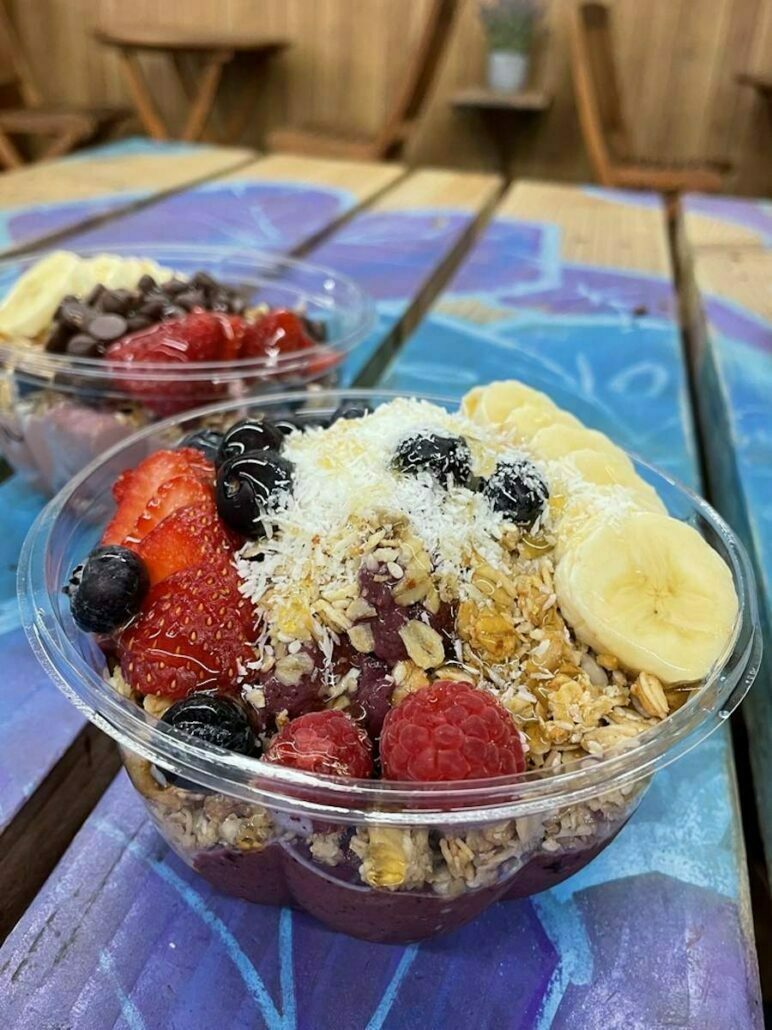 (Sau Sai Bowl from Anake's Juice Bar)
Ultimately we found the Sheraton to be a great option for both families and/or couples. In addition to a great beach and recently renovated rooms, you'll find a nice pool area, fire pits across the property, and a variety of daily complimentary activities including Ukulele lessons, yoga, lei making, henna tattoo creation, fishing, and more. Surf lessons are also offered on-site for an extra charge.
After a couple nights at the Sheraton Kauai, it was time to move on to our next stop the Grand Hyatt Kauai Resort & Spa which is also located on Kauai's sunny south shore. We were greeted with fresh orchid leis which was a welcome touch.
The grounds were sprawling with acres of pools including a 1.5 acre lagoon, an adults-only pool, a lazy river, meandering family pools with waterfalls and a waterslide.
It was hard to peel ourselves away from the resort, but we had much to explore in Kauai. After our first night at the property, and a good breakfast at Ilima Terrace, we headed out to Waimea Canyon State Park. The drive was about an hour and we were among the first visitors before 9am.
The views were out of this world and the pictures don't come close to doing the park justice…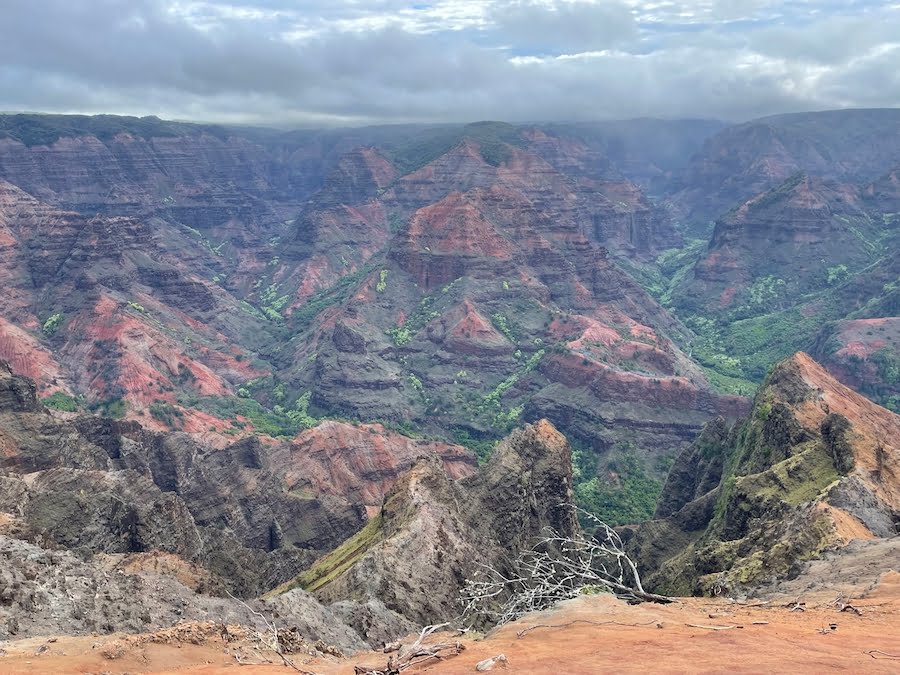 This particular shot was from the official Waimea Canyon State Park Lookout (mile marker 10), but if you drive past the turn-off for the this lookout, there are additional places to stop for incredible views of the canyon and Nāpali Coast. On the way back out, we also stopped at the Iliau Nature Loop (located between mile markers 8 and 9). This was an easy quarter mile loop with great views of the canyon.
Later in the afternoon we explored the Makauwahi Cave, Hawaii's largest limestone cave and the richest fossil site in the islands. This was a really neat site, a living museum which has preserved fossils which date back 10,000 years or more. In order to even access the site, you need to crawl through a small opening in the limestone rock. Once you make it through the tunnel the area opens up as though you've stumbled upon a secret garden…
We spent a total of 4 nights on Kauai and focused our time mainly on the south shore. We fell in love with the island and the laid back culture. On our next trip, if we are so lucky to travel back to this magical island, we will spend time exploring the north shore.